Short Loin Primal Cut
The beef short loin primal cut comes from the hindquarter, the back portion of the animal, and includes the 13th rib. The short loin is the most expensive cut, and here you'll find the porterhouse steak, wing or club steak, tenderloin medallions, the New York strip steak, and the T-Bone steak. All of these cuts are great for grilling or broiling.
The short loin primal cut can be further broken down into two sub primal cuts: the tenderloin and the strip loin.
Differences Between the T-Bone and the Porterhouse Steaks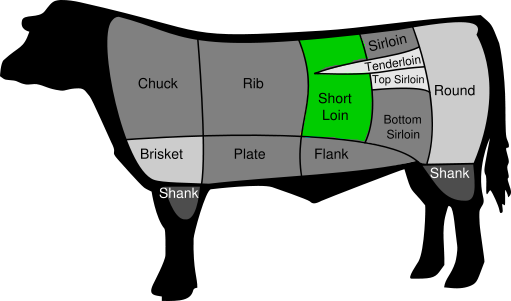 The porterhouse and T-Bone steaks are very similar. What separates them is the fillet side of the bone. As you can see from the picture above, the tenderloin actually tapers off in the short loin, and this size difference is what separates the porterhouse and the T-Bones. On the porterhouse the fillet side is an inch or greater, and on the T-Bone the fillet side is an inch or under.
Breaking Down the Short Loin Primal Cut
This video below shows the complete breakdown of the short loin primal cut. The first part keeps the bone in the primal cut, which creates the T-Bone and porterhouse steaks. The second part breaks down the short loin into two sub primals by removing the bone. The tenderloin sub primal is trimmed and cut into filet mignon, filet medallions, and small pieces of the tail that can further be cut for steak tartare or dishes like beef stroganoff. The strip loin sub primal can be left whole as roasts or cut into New York steaks.