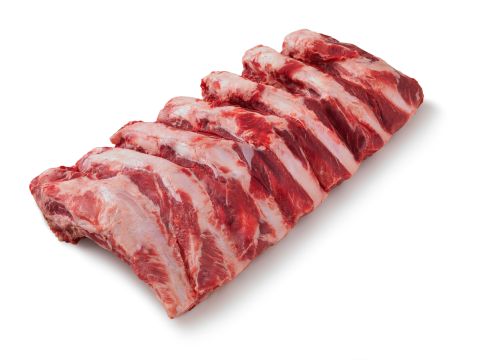 Beef ribs are most known as the large, 'Jurassic' style ribs fit for big appetites. But there is another type of beef rib cut popular across many cuisines: beef short ribs. Short ribs aren't the full cut or length of the actual rib. Short ribs are divided into two different styles depending on how it is cut by the butcher, English or Flanken cut.
Beef Back Ribs
Beef back ribs come from the Rib primal cut, and this subprimal is full of flavor with great value. Most beef back ribs are about 6 to 8 inches in size (large) and are sometimes referred to as Dinosaur ribs because they are so big. This cut is 124 on the IMPS guide. The rib fingers are thin strips of beef that are cut from the individual ribs.
Beef Short Ribs
Beef short ribs also come from the the Rib primal cut, 123 on the IMPS guide.
The English cut short ribs are cut parallel to the bone so each piece of bone has portion of beef on it. Boneless beef short ribs are simply the English style with the bone removed. This is not to be confused with boneless country style beef short ribs which are actually from the chuck eye roll. English cut short ribs are tougher and longer, and require long and slow cooking methods such as braising and low and slow barbecue and smoking.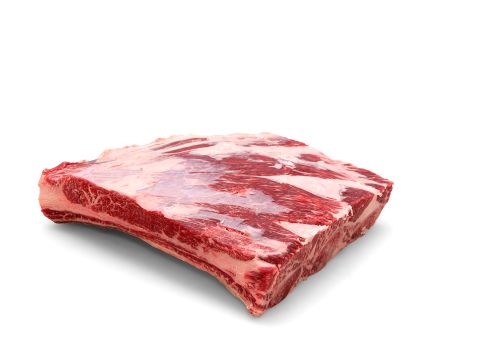 The flanken cut short ribs are cut across the bone. Each piece of meat contains small pieces of bone. This style is perfect for marinating and grilling. Maui style and Korean style barbecue use this cut. These short ribs are thinner, and cook much quicker than the English cut.
Images:
Beef ribs and beef short ribs courtesy Beef It's Whats For Dinner. Flanken style short ribs from Flickr user Tim Evanson through a CC license.