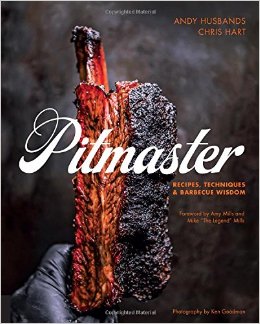 Blurb:
Pitmaster is the definitive guide to becoming a barbecue aficionado and top-shelf cook from renowned chefs Andy Husbands and Chris Hart.
Barbecue is more than a great way to cook a tasty dinner. For a true pitmaster, barbecue is a way of life.

Pitmaster is the definitive guide to becoming a barbecue aficionado and top-shelf cook, whether you're new to the grill or a seasoned vet. Recipes begin with basics, like cooking Memphis-style ribs, and expand to smoking whole hogs North Carolina style.

There is no single path to becoming a pitmaster. Barbecue lovers are equally inspired by restaurants with a commitment to regional traditions, competition barbecue champions, families with a multi-generational tradition of roasting whole hogs, and even amateur backyard fanatics.

This definitive collection of barbecue expertise will leave you in no doubt why expert chefs and backyard cooks alike eat, live, and breathe barbecue.
Pitmasters are essentially gods of barbecue. They are genuine masters of the barbecue lair they rule in. Pitmaster: Recipes, Techniques & Barbecue Wisdom by Andy Husbands and Chris Hart takes readers on a journey of barbecue influences by region and the people who inspire them the most in the world of barbecue.
Each chapter features a guest pitmaster who is an expert in their given region or style of barbecue cooking. The profiles include advice from notable barbecue pros: Ken "Jake" Jacobs, Steven Raichlen, Sam Jones, Elizabeth Karmel, Rod Gray, John Lewis, Jamie Geer, Bill Durney, Andy Husbands, Tuffy Stone, Chris Hart. They all add to the treasure that this book is.
The chapters go into styles of barbecue, and delve into the main regions: Backyard Barbecue; North Carolina; Kansas City; Texas; The North; and Competition Barbecue. As far as recipes, this book has the classics from the above regions that are the go-to ones, with nothing extra that doesn't fit. You'll find favorites like barbecue rubs, sauces, and sides to the actual meats that define the barbecue regions – Butcher Paper [Beef] Brisket from Texas, and Whole Hog Eastern North Carolina Style.
And if you've ever wanted to know what really goes down at a barbecue competition, you'll find timelines that take you from the early morning set up to the final afternoon presentation at the judge's tent.
Here is a recipe to try from the book – the classic Texas toast that's great served with Texas barbecue (or anything else you can think of).
Texas Toast
Great served with classic Texas barbecue fare like hot links or beef brisket.
Ingredients
Classic Butter Mix
1/2 cup salted butter, softened
1 tablespoon finely chopped parsley
2 teaspoons garlic salt
1 teaspoon finely ground black pepper
6 to 8 slices of white bread
Spice Butter Mix
1/2 cup salted butter, softened
1 tablespoon minced cilantro leaves
2 teaspoons Frank's RedHot Original (or the Fermented Chile Sauce from the book)
1 teaspoon Worcestershire sauce
1 large clove garlic, minced
1/2 teaspoon ground chipotle or cayenne
6 to 8 slices white bread
Instructions
For the both styles of Texas Toast:
Mix the butter and ingredients in a small bowl until fully incorporated.
Preheat griddle to 350 degrees F or heat a cast iron pan over medium heat.
Spread 1 tablespoon of the butter on each side of the bread and griddle each side for about 2 to 3 minutes until golden brown.
Serve warm.
Book Info:
Fair Winds Press; 2017.
ISBN13: 978-1592337583.
Hardcover and ebook versions available.
Disclosure: This book was provided by the publisher and any opinions are my own. Affiliate links help support the site. 🙂