Blurb:
In Grill Skills, professionals generously offer their very best tips, advice, and recipes. This is the book where Tex-Mex meets the islands, the Mediterranean meets Sweden, and the tropics meet urban balconies—an indispensable grill book for all tastes.
Grill Skills is a multi author book. Mia Gahne explains how to whip up the perfect barbeque sauce. Tove Nilsson shares slightly tweaked traditional barbeque dinners with all the proper sides. Liselotte Forslin creates glorious barbeque buffets for all ages and tastes. Mia Öhrn conjures up the magic of grilled desserts. Bengt-Göran Kronstam gives expert advice on wines to go with your grilled meals. Catharina Lindenberg-Bernhardsson creates ambiance by imaginatively decorating around the grill. All this is accompanied by music selected by Jan Gradvall.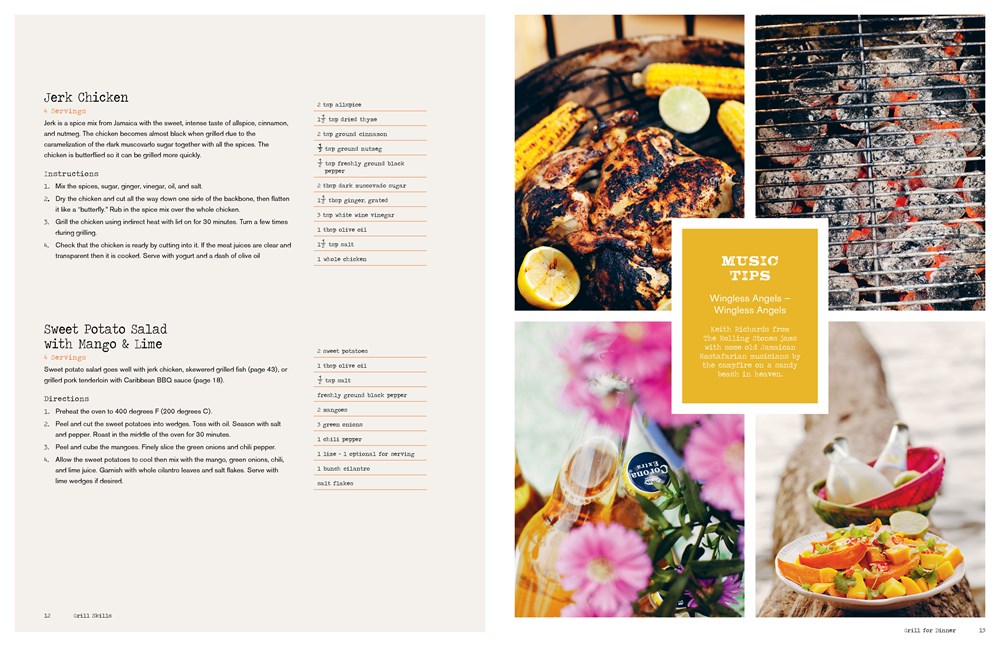 Book Overview and Chapters
The book is separated by theme: 30 Commandments for a Grill Master; Grill for Dinner; Classic Bistro Grill; Family Grill Fest; Mediterranean Grill; BBQ Swedish Style; Setup for a Grill Party; Grilled Desserts; and Sure-Fire Wines. The 30 Commandments chapter has info on prepping for grilling, choosing a grill, and things to do during grilling and when it's almost done.
Recipes range from simple glazes to salads to desserts. Colorful pictures are throughout. Below is a recipe from the book, Jerk Chicken.
Jerk Chicken
2016-07-27 18:00:26
Jerk is a spice mix from Jamaica with the sweet, intense taste of allspice, cinnamon, and nutmeg. The chicken becomes almost black when grilled due to the caramelization of the dark muscovado sugar together with all the spices. The chicken is butterflied so it can be grilled more quickly.
Ingredients
2 teaspoons allspice
1 1/2 teaspoons dried thyme
2 teaspoons ground cinnamon
Pinch ground nutmeg
1/2 teaspoon freshly ground black pepper
2 tablespoons dark muscovado sugar
1 1/2 tablespoons grated ginger
3 teaspoons white wine vinegar
1 tablespoon olive oil
1 1/2 teaspoons salt
1 whole chicken
Instructions
Mix the allspice, thyme, cinnamon, nutmeg, pepper, sugar, ginger, vinegar, oil, and salt together in a small bowl.
Pat dry the chicken and cut down the backbone and flatten out. Rub the spice mixture all over the bird.
Grill using indirect heat with the lid on for about 30 minutes, turning a few times during grilling.
Continue cooking until juices run clear.
Adapted from Grill Skills: Professional Tips for the Perfect Barbeque.
Adapted from Grill Skills: Professional Tips for the Perfect Barbeque.
All Qd Up http://www.allqdup.com/
Book Information:
Schiffer Publishing; 2015.
ISBN13: 9780764347689
Disclosure: This book was provided by the publisher and any opinions are my own.